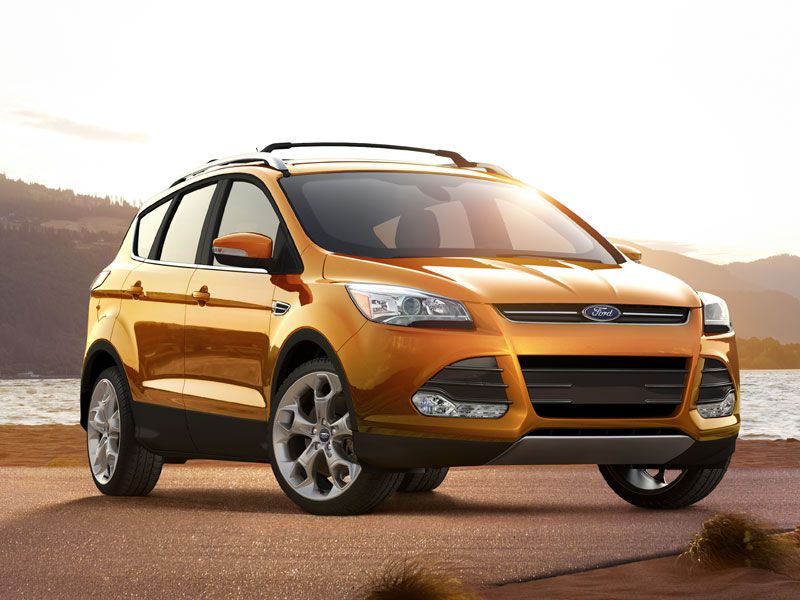 2016 Ford Escape ・ Photo by Ford
Affordable SUVs are the default family vehicles of choice these days, as it's hard to beat their combination of price, practicality, and comfort. You can find an affordable SUV in almost any size that you might need, but the least expensive tend to fall into the compact and midsize segments. This means you can even get three rows of seating and a heaping helping of cargo space without having to spend a lot of cash. Let's take a quick look at 10 affordable SUVs and see what they have to offer for the money.
2016 Ford Escape — MSRP $23,590
The 2016 Ford Escape offers respectable fuel mileage and substantial practicality in a compact package. The Ford Escape might only feature two rows of seating, but the trade-off is 34.3 cubic feet of cargo space behind the rear bench — a figure that nearly doubles to a healthy 67.8 cubic feet with the back seat folded forward. Supportive seats await the driver and front passenger, and adults will fit comfortably in the back. The 2016 Ford Escape also offers plenty of standard equipment for the price.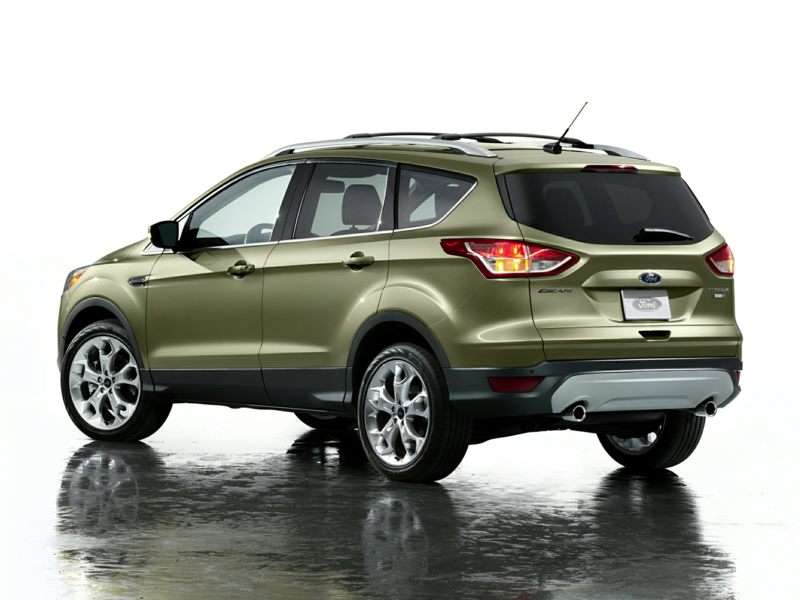 2016 Volkswagen Tiguan — MSRP $24,890
The 2016 Volkswagen Tiguan is an intriguing affordable SUV option for anyone who can restrain themselves from delving too deep into the options list  All versions of the Volkswagen Tiguan avail themselves of the same engine, a 2.0-liter turbocharged 4-cylinder that develops 200 horsepower and 207 lb-ft of torque. 4MOTION all-wheel drive is an extra, and so are the R-Line trim's slick body kit, wheels, and stiffer suspension. The Tiguan delivers seating for five along with a relatively peppy ride and 56.1 cubic feet of cargo space.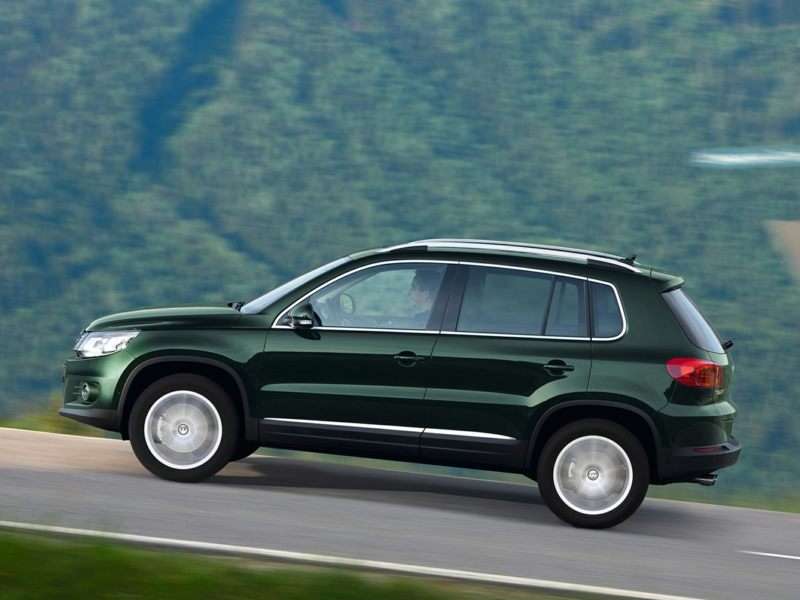 Photo by Volkswagen
2016 Honda CR-V — MSRP $23,745
The 2016 Honda CR-V is a mainstay of the compact SUV market, and you only have to spend a short time behind the wheel to understand why. Reliable and roomy, the Honda CR-V might not be the most dynamically interesting vehicle to drive, but it's certainly comfortable. The CR-V is also relatively efficient thanks to the decision to stick with the brand's trusted and true 2.4-liter 4-cylinder engine. The CR-V seats five and can house an enormous 70.9 cubic feet with the rear row out of the picture.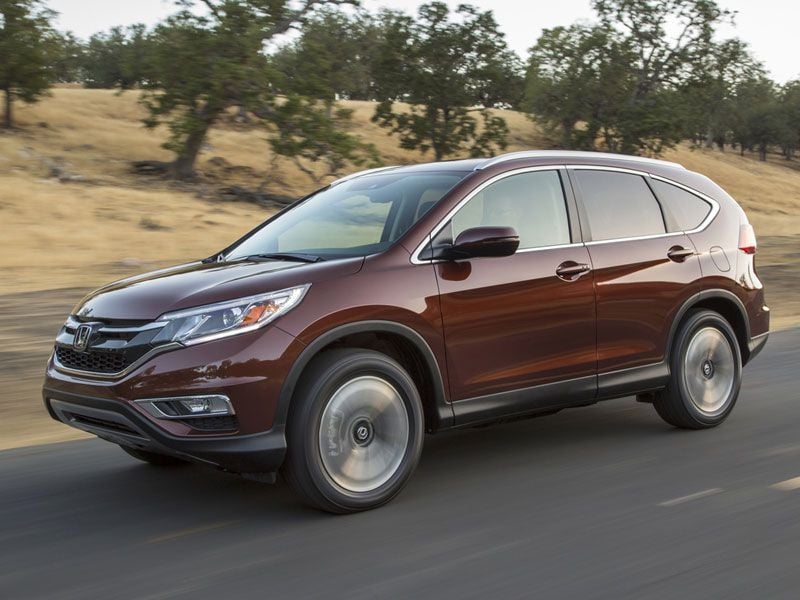 Photo by Honda
2016 Mazda CX-5 — MSRP $21,795
The 2016 Mazda CX-5 stands in stark contrast to the Honda CR-V from a driving dynamics perspective. Whereas the Honda is staid, the Mazda CX-5 can legitimately be said to have a fun personality once the road turns twisty. Helping to keep a smile on your face is the Mazda's array of Skyactiv 4-cylinder engines, each of which as been tuned to return maximum fuel mileage. Seating for five and 65 cubic feet of total space are standard with the Mazda, while all-wheel drive is optional.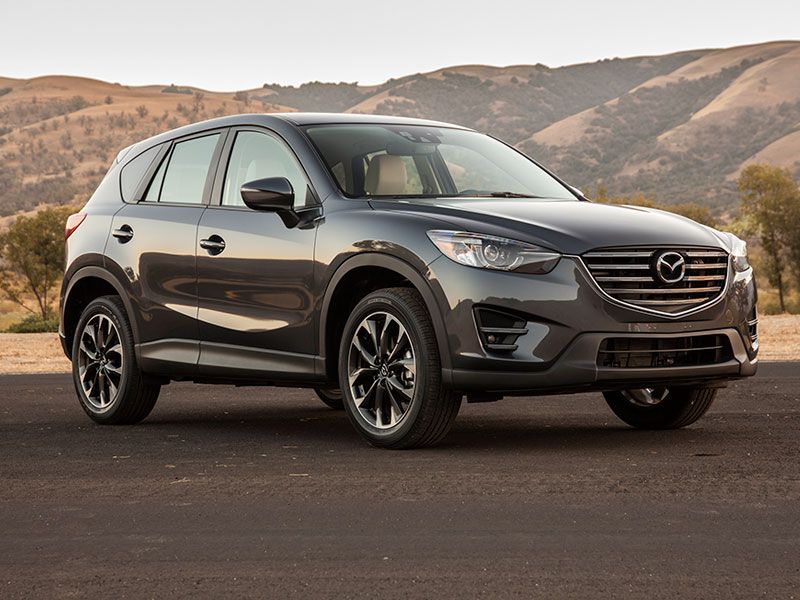 Photo by Mazda USA
2016 Jeep Cherokee — MSRP $23,495
The 2016 Jeep Cherokee is a revived effort from the brand more known for off-road exploits than comfortable urban cruising. The Jeep Cherokee, a dramatically-styled, fully modernized compact SUV that features the industry's first 9-speed automatic transmission. This gearbox helps the Cherokee post fuel mileage figures of 21 mpg city and 28 mpg highway when ordered with its 184-horsepower, 2.4-liter 4-cylinder engine.  For those looking to spend a bit more money, there's also a 271-horsepower, 3.2-liter V6 available, along with a pair of 4-wheel drive systems.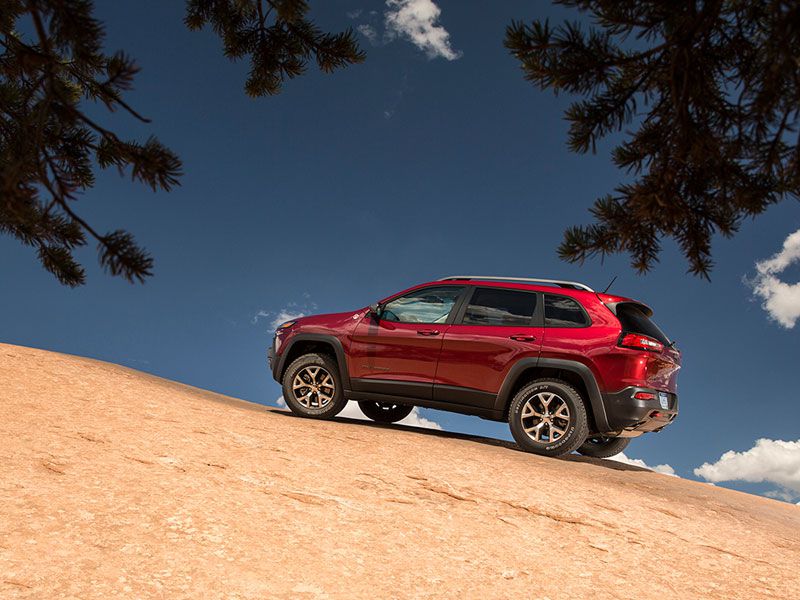 Photo by FCA Media
2016 Ford C-Max Hybrid — MSRP $24,170
The 2016 Ford C-Max Hybrid is a battery-assisted SUV that manages to balance engaging handling with above-average fuel economy, which is a rarity in its class. Each Ford C-Max Hybrid is motivated by a 2.0-liter, 4-cylinder engine paired with a single electric motor in order to produce 188 horsepower. Around town the C-Max returns 45 mpg, and on the highway it offers 40 mpg. The Ford's interior gives it room for five passengers or 52.6 cubic feet of cargo, which is generous for a compact hybrid vehicle.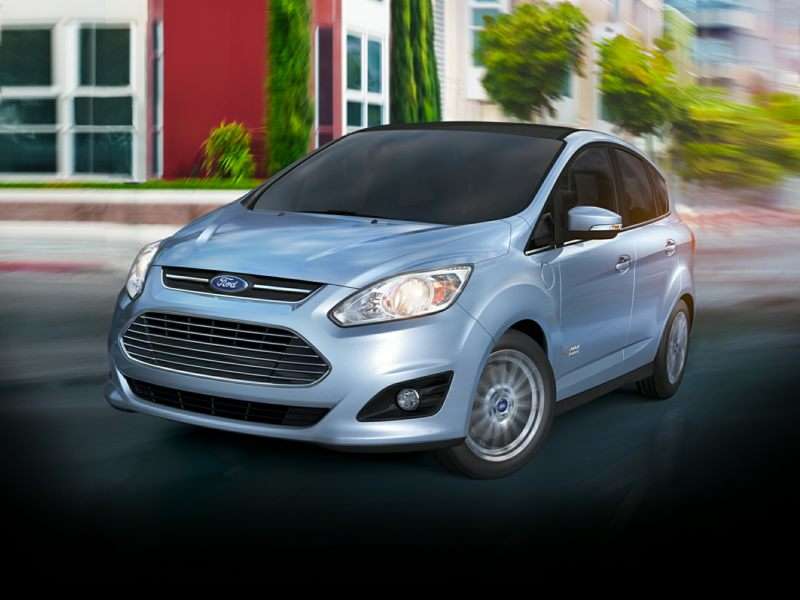 Photo by Ford
2016 Hyundai Tucson — MSRP $22,700
The totally redesigned 2016 Hyundai Tucson provides affordable SUV shoppers with an urban runabout that's small on the outside but surprisingly useful once you open the driver's door. More of a tall hatchback than a true SUV — at least when it comes to its driving experience — the Hyundai Tucson still provides 61.9 cubic feet of cargo space when you need to haul oversized items. There are also plenty of storage cubbies found throughout the Hyundai's interior, and a hands-free power liftgate is now available for easier loading and unloading.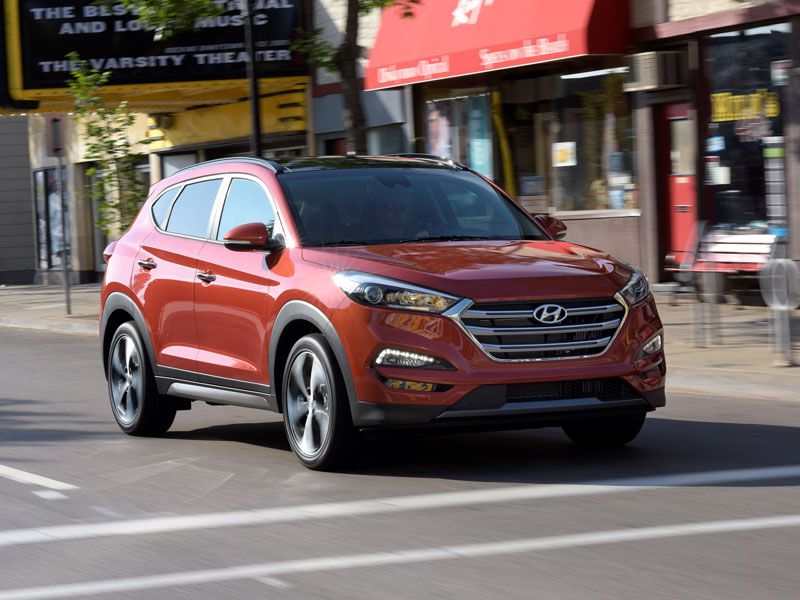 Photo by Hyundai
2016 Nissan Rogue — MSRP $23,290
The 2016 Nissan Rogue is strong choice for an affordable SUV, with distinctive styling and an optional third row of seating, which is rare for a compact SUV. The Rogue is powered by a 2.5-liter, 170-horsepower 4-cylinder engine, paired with an efficient  continuously variable automatic transmission, leading to a final rating of 26 mpg city and 33 mpg highway when found in front-wheel drive form (all-wheel drive is optional). In addition to its up-to-seven passenger seating, the Nissan also boasts 70 cubic feet of interior storage space.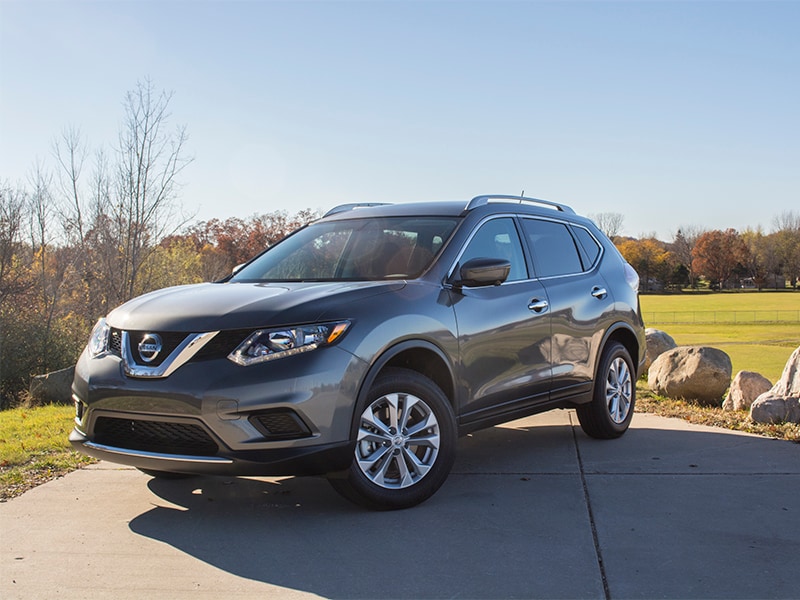 2016 Mazda CX-9 — MSRP $31,520
The fully redesigned 2016 Mazda CX-9 bottles up as much of the compact CX-5's handling prowess as it can and unleashes it across a seven-passenger midsize effort. The Mazda CX-9 is quite successful at out-performing several of its similarly-priced rivals, and not only does it have a pleasing chassis but it's also got the power needed to back it up. 71.3 cubic feet of total cargo space make the Mazda quite useful from a hauling perspective, and fuel economy for the SUV is listed at 22 mpg city and 28 mpg highway.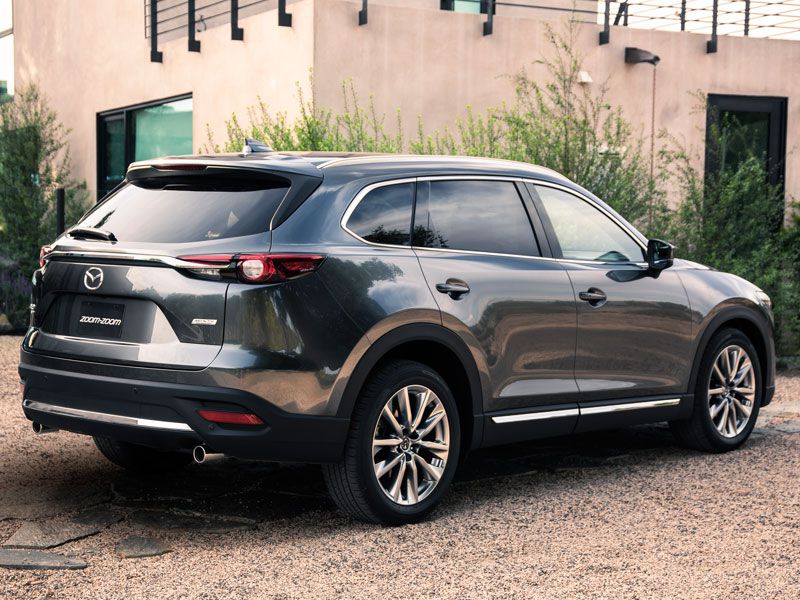 2016 Ford Edge — MSRP $28,700
The 2016 Ford Edge, which was redesigned just last year, sneaks onto our list for its high tech quotient (available MyKey memory functions system, Ford's updated SYNC 3 infotainment system, standard rearview camera, parallel and perpendicular park assist), along with its sleek looks and impressive 73.4 cubic feet of total cargo space with the rear row folded forward. The Ford Edge Sport performance model is a bit out of the price scope of this article, but more accessible trims of the Edge feature a 2.0-liter turbocharged 4-cylinder or a 3.5-liter V6, both of which provide ample power and decent fuel economy.
Photo by Ford