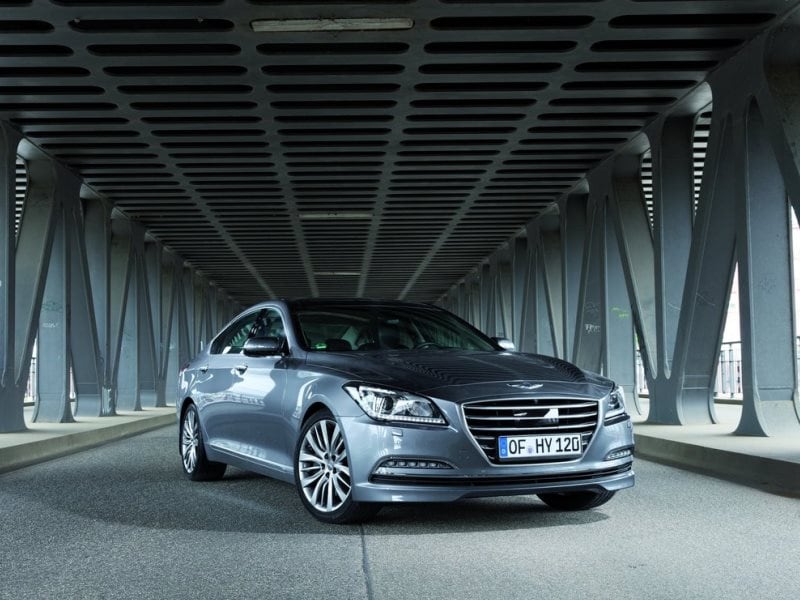 2015HyundaiGenesisSedan
They say you can't put a price on safety except, well, you kind of can. People who are accustomed to shopping for a new car on a strict budget often see that the latest and greatest safety systems just aren't an option on inexpensive vehicles. Blind spot warning systems are one example of a safety feature that helps reduce crashes by improving visibility, and this technology is gradually becoming more common on affordable new cars. As always, it must be noted that everyone has a different definition of "affordable." We focused on finding vehicles that offer a great value for the money at the low end of the market, but we also found a couple examples that we felt were worth bending the rules just a bit. Take a look through our list of 10 Affordable Cars With Blind Spot Warning Systems, and you'll see why.
1) 2016 Hyundai Genesis
The 2016 Hyundai Genesis is a midsize sedan that seats five, and despite its appealing price, it was designed to compete against more upscale vehicles at a higher price point. With this strategy comes plenty of power and good equipment offerings. The base Genesis makes 311 horsepower from its 3.8-liter V-6 engine, and 420 horsepower is available from a 5.0-liter V-8 engine, both of which come paired to an eight-speed automatic gearbox. Official specifications aren't yet available for the 2016 Hyundai Genesis, but the Genesis was fully redesigned for 2015, and its equipment list offered a blind spot warning system as an optional feature (along with other upscale safety technology, such as a lane departure warning system). We expect Hyundai to keep equipment offerings more or less the same, so keep an eye out for this bargain upscale car later this year.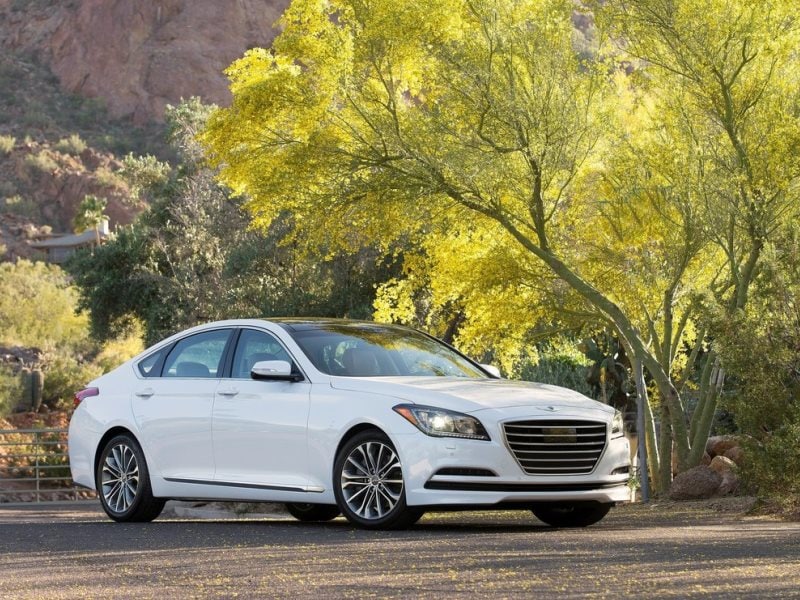 2) 2016 Mazda Mazda3
The 2016 Mazda Mazda3 enjoys a well-deserved reputation for being a fun, sporty and well crafted small car at a reasonable price point. Available as a sedan or a hatchback, both versions of the Mazda3 stand out in a crowd thanks to the car's extroverted styling, and the vehicle also comes with a long list of standard features that make it very competitive for its class. However, the blind spot warning system is an add-on feature for the 2016 model year, along with several other safety features. The base Mazda3 comes with a 2.0-liter four-cylinder engine that puts out 155 horsepower and 150 of torque, and the car is designed to squeeze out every pony's worth of enjoyment. Higher-end trims of the 2016 Mazda3 offer a 2.5-liter four-cylinder engine that makes 184 horsepower and 185 lb-ft of torque.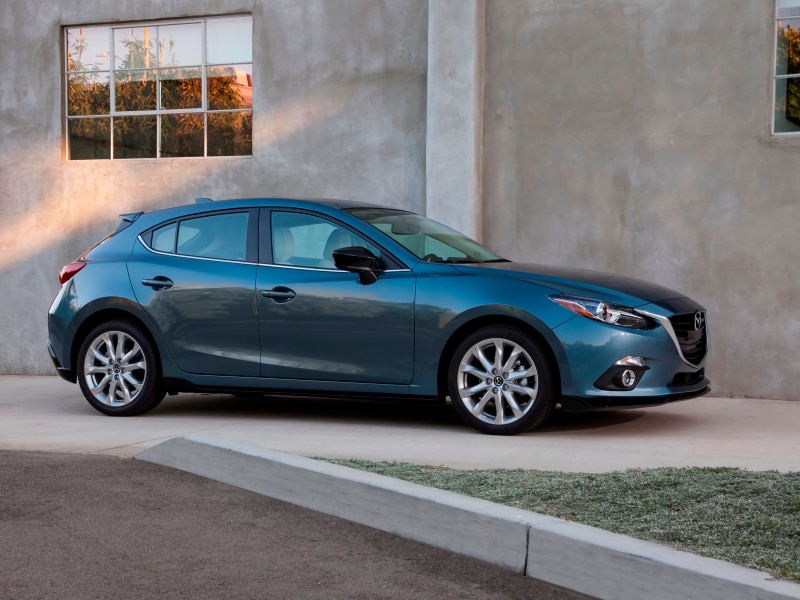 Photo by Mazda
3) 2016 Chevrolet Cruze
The 2016 Chevrolet Cruze provides really good efficiency and a great price for an attractive compact sedan, helping Chevrolet hold down a spot in the highly competitive market for small entry-level cars. The 2016 Cruze is one of the least expensive new cars available in the United States, but Chevy isn't skimping on the equipment or features. Full specs aren't yet available for the 2016 model, but they will likely be similar to the 2015 model Cruze, which offered an optional blind spot warning system and other advanced safety equipment. The Cruze also provides features such as a Wi-Fi hotspot thanks to the General Motors OnStar communications system. The compact Chevrolet Cruze is powered by a 138-horsepower 1.8-liter four-cylinder engine in the base model, and a more efficient 138-horsepower turbocharged 1.4-liter four-cylinder with higher trim levels.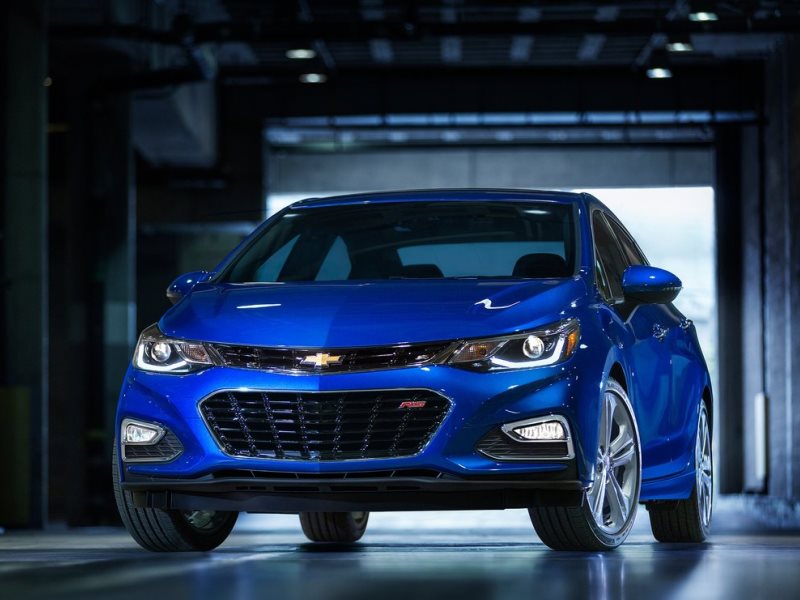 Photo by Chevrolet Media
4) 2016 Mercedes-Benz E-Class
The 2016 Mercedes-Benz E-Class is a family of upscale midsize vehicles that are available in coupe, sedan, wagon and convertible body styles. A Mercedes might not strike many buyers as an affordable vehicle, but they're reasonably priced considering they represent an entry to the luxury market. The E-Class offers plenty of customization in body styles, drivetrains, and trim levels, which also helps keep the price of entry lower than some might expect. Look at the 2016 E250, a turbodiesel 2.1-liter four-cylinder that makes 195 horsepower, for the lowest base MSRP. The blind spot monitoring feature is optional on the 2016 Mercedes-Benz E-Class, and as you might expect, this vehicle offers no shortage of high-end safety functions. Other available safety features include front collision monitoring with automatic braking, adaptive cruise control, driver drowsiness monitoring, and lane departure warning.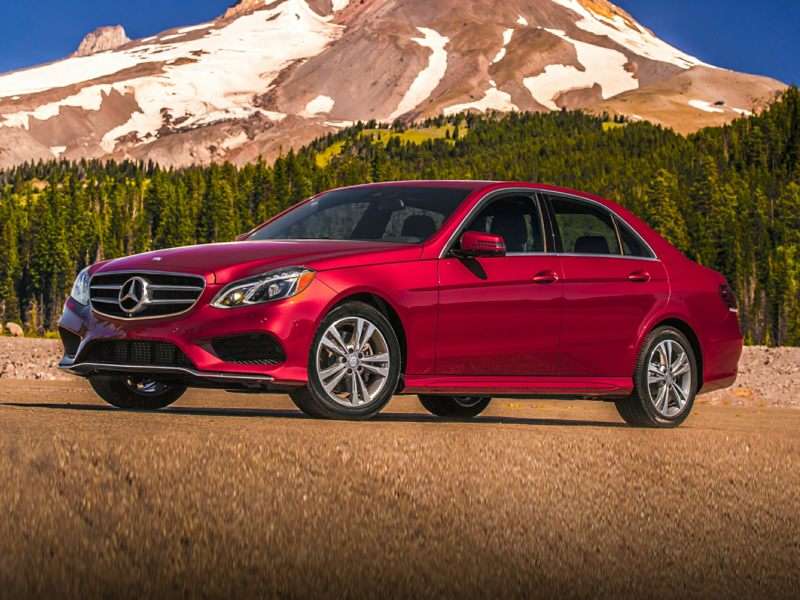 5) 2016 Ford Focus
The 2016 Ford Focus is an affordable compact car that's available at several price points and offers attractive sedan and hatchback body styles, to comprise a package that makes one of the most popular cars in its class in the United States. Five passengers can be seated in the Focus' surprisingly comfortable and high-quality interior. The base 2016 Focus is powered by a 2.0-liter four-cylinder engine that makes 160 horsepower and comes with a six-speed automated manual or five-speed manual transmission. All three trim levels are based on this drivetrain. The blind spot warning system is an optional feature on the 2016 Ford Focus, as part of a technology package. Other safety features include a standard rearview camera, stability control, traction control, emergency braking assist, and active park assist.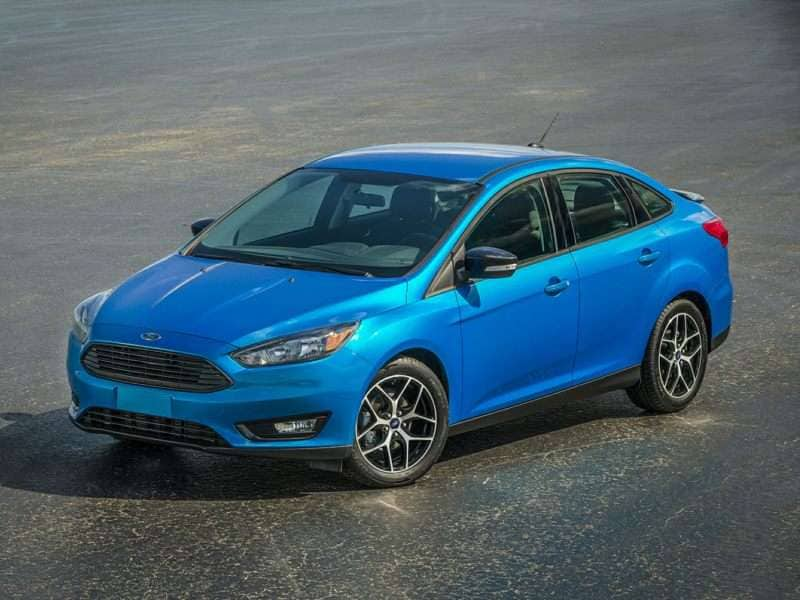 Photo by Ford
6) 2016 Honda Fit
The 2016 Honda Fit is a popular hatchback that holds down a long-earned top spot in the subcompact category. Its success is due in part to its surprising amount of interior space and its great versatility, considering its small footprint. The Fit's thrifty 1.5-liter four-cylinder engine offers 130 horsepower, which is perfectly sufficient to move the vehicle and is great for getting good fuel mileage. A six-speed manual transmission comes standard, and a continuously variable automatic transmission is optional. The Fit also offers a lot of standard equipment at its affordable base price, along with desirable optional features, such as the Honda LaneWatch blind spot camera monitoring system. And on a related note, the Honda Fit usually nails the Insurance Institute for Highway Safety and National Highway Traffic Safety Administration crash tests, which is especially worth mentioning for such a small car.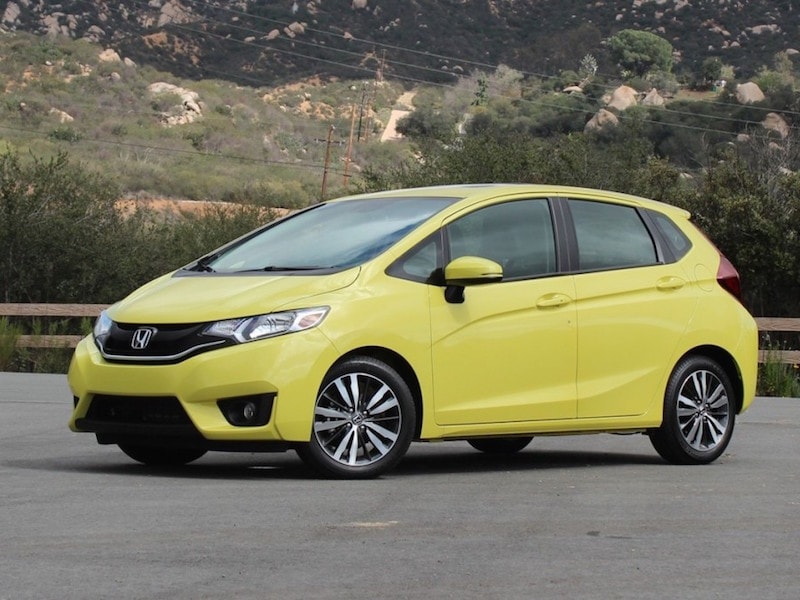 Photo by Honda
7) 2016 Volvo S60
The 2016 Volvo S60 is a luxury sedan that many shoppers might not consider affordable, but this model does represent the brand's entry level with the lowest MSRP in the Volvo lineup. And with that comes Volvo's excellent safety equipment options, with impressive safety test scores to match. Five passengers can sit comfortably in the Volvo S60, despite its relatively small size for a sedan. The S60 comes powered by a choice of four different efficient engines, all paired to an eight-speed automatic transmission. The Volvo S60 comes standard with front-wheel drive, but the optional all-wheel drive system is available to help increase the car's handling and stability. The S60's blind spot warning feature is just one on a comprehensive list of safety options that includes lane keep assist, parallel park assist, adaptive cruise control, forward collision warning, and a rearview camera.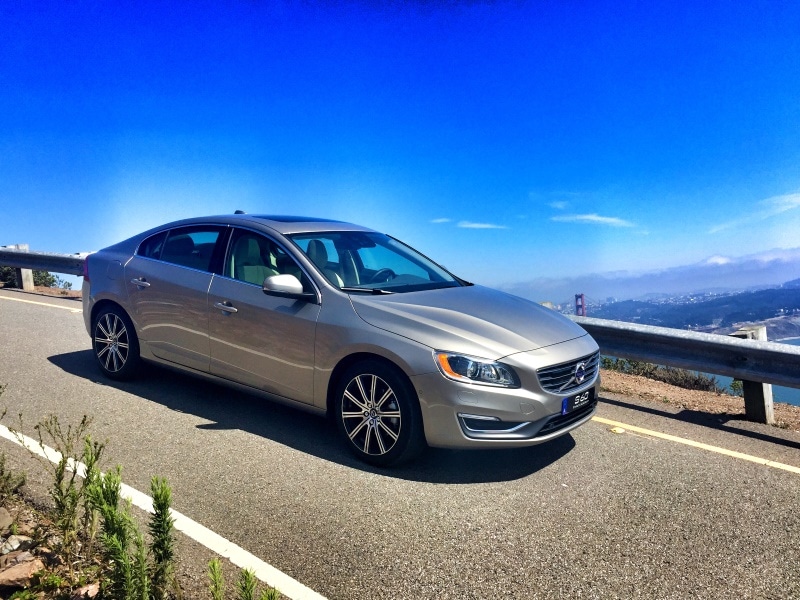 Photo by Lyndon Bell
8) 2016 Dodge Charger
The 2016 Dodge Charger is a full-size sedan that emphasizes performance, although its everyday street-worthiness is also one of its major selling points. The Charger includes plenty of standard convenience features and its lineup of engines, though powerful, are still very drivable. The base 2016 Dodge Charger comes with a 3.6-liter V-6 engine that makes 292 horsepower and 260 lb-ft of torque. The Charger R/T offers a 5.7-liter Hemi V-8 with 370 horsepower. The R/T Scat Pack and SRT 392 versions of the Charger offer 485 horsepower from a 6.4-liter V-8, and the SRT Hellcat has a 6.2-liter V-8 that makes 707 horsepower. Available safety features on the 2016 Dodge Charger, in addition to blind spot monitoring, include rear cross path detection, full speed forward collision warning, adaptive cruise control with full stop, and lane departure warning.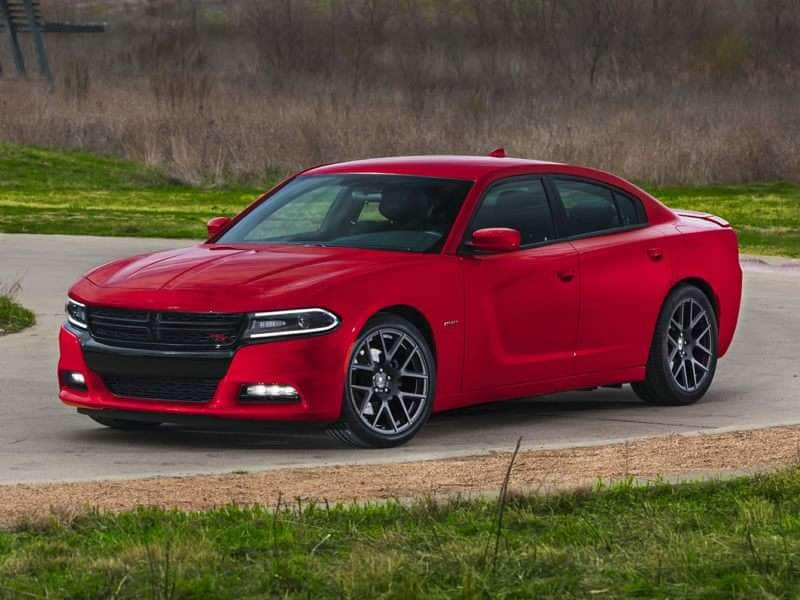 9) 2016 Nissan Maxima
The Nissan Maxima, a five-passenger sedan, has been completely redesigned for the 2016 model year, and its optional blind spot warning feature is just one of the Maxima's new offerings. The 2016 Nissan Maxima comes with a 3.5-liter V-6 engine that makes 300 horsepower and 261 lb-ft of torque, paired to a continuously variable transmission. There are five trim levels available on the Maxima, which help buyers sort out equipment and features, and a competitively comfortable interior comes standard. As a family-oriented large sedan, safety is an important consideration for the Maxima's target market, and Nissan has really stepped up the game compared to the car's previous generation. A rearview camera is standard, and the Maxima also offers a driver alertness monitor, adaptive cruise control, forward collision warning with automatic braking, and front and rear parking sensors to complement the bind spot warning system.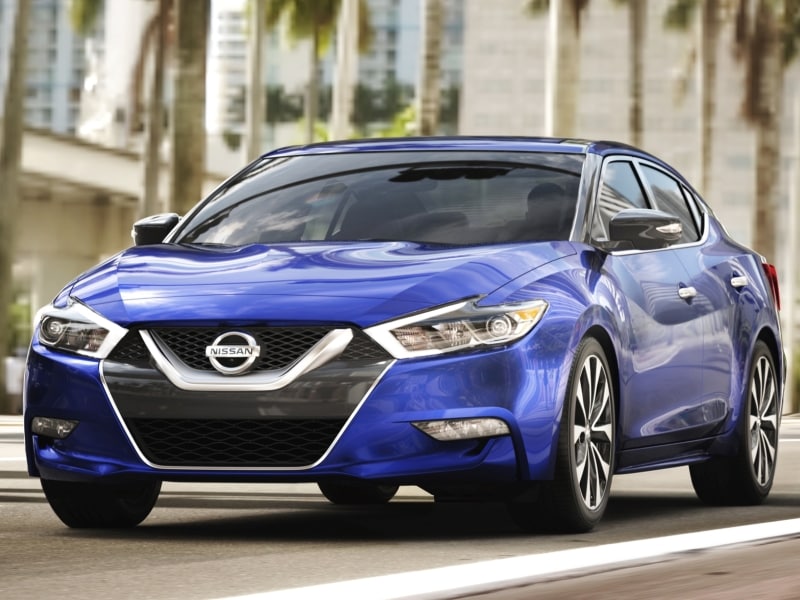 Photo by Megan Green
10) 2016 Cadillac ATS
The 2016 Cadillac ATS is one of the more affordable small cars on the luxury end of the market, and with that price premium comes a ton of top-notch safety equipment. The 2016 ATS is available in sedan and coupe form, offering just a little variety for varying tastes, with five-passenger capacity in the sedan and seating for four in the two-door. But otherwise, the two versions of the car are similar. Engine options on offer are a 202-horsepower 2.5-liter inline-four, a 272-horsepower turbocharged 2.0-liter inline-four, and a 335-horsepower 3.6-liter V-6. The 2016 Cadillac ATS is rear-wheel drive, but an all-wheel drive is an option. A head-up display, rear cross traffic alert, front and rear parking sensors, and adaptive cruise control join the blind spot monitoring system on the list of the Cadillac ATS' available safety features.