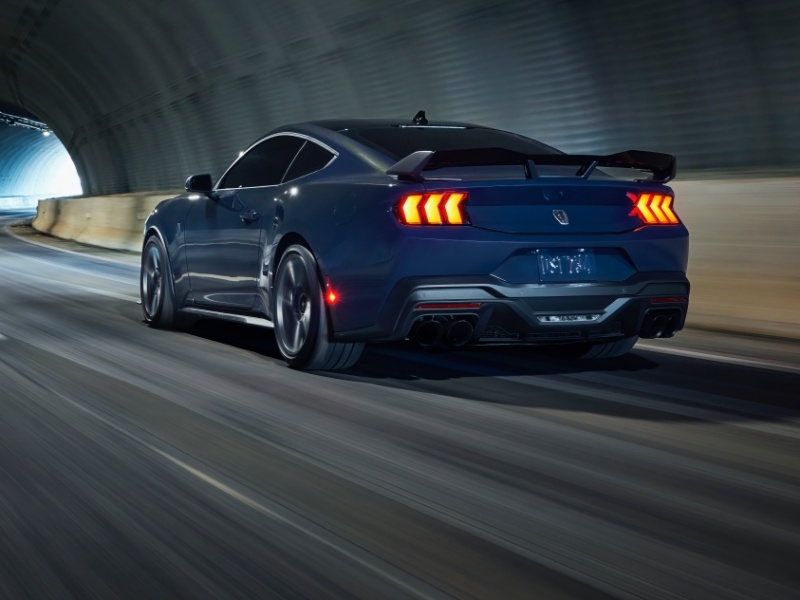 Photo by Ford
In an era that increasingly prioritizes efficiency, it's easy to forget that we're also in a golden age of absurd horsepower. Once the realm of exotic supercars, the magic number of 500 horsepower has become more accessible.
Now, when we say "affordable," keep your expectations realistic. You won't find a 500-hp sports coupe for $25,000. These are still high-end performance machines. But all 10 of the cars we'll highlight today are between $50,000 and $100,000. And two of them manage to marry wild speed, relative attainability, and incredible efficiency. Here are 10 affordable cars with 500 horsepower, sorted by base price.
2024 Ford Mustang Dark Horse
Ford has redesigned the iconic Mustang for 2024. The overhauled 2024 Ford Mustang includes a fresh take on the rear-wheel-drive two-door's retro styling, a modernized interior, an upgraded suspension, and a new 500-hp model called the Dark Horse.
The track-focused Dark Horse massages the Mustang GT's 480-hp 5.0-liter V8 to hit the magic horsepower number. And with a base price of $59,270, it's the most affordable 500-hp car available now (at least before you have to wrangle with the dealer markups that could hit many of the cars on our list). The Dark Horse has a choice of a six-speed manual or 10-speed automatic transmission along with racetrack-ready suspension changes. It should need less than 4 seconds to race to 60 mph. If you don't mind a mere 480 hp, prefer a smoother ride, or want an open-top convertible instead of a fixed-roof coupe (the only Dark Horse option), the new Mustang GT starts at a mere $42,495.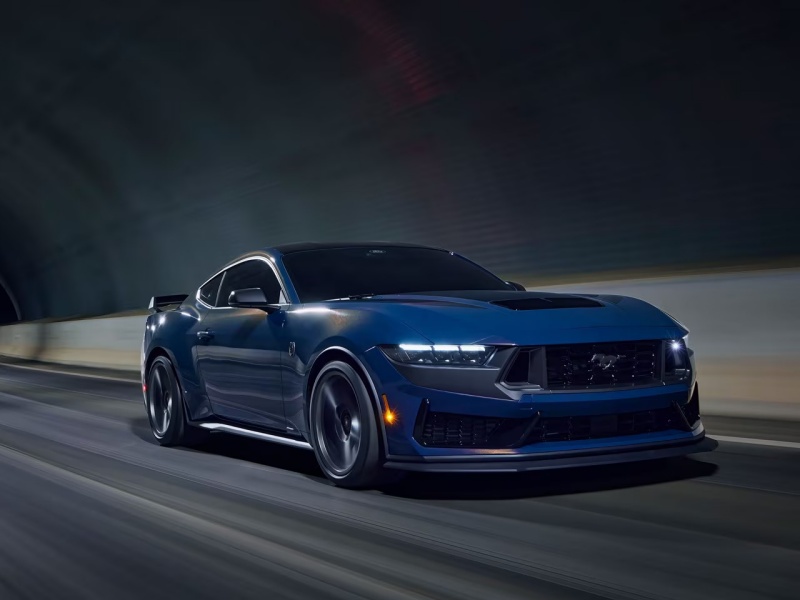 Photo by Ford
2023 BMW i4 M50
The Mustang Dark Horse has a roaring V8 engine that gets a mere 17 mpg in mixed driving. If you want incredible horsepower in an entirely different wrapper, consider the 2023 BMW i4 M50.
This 536-hp compact luxury liftback is a smooth, near-silent, subtly styled fully electric vehicle. If you're familiar with electric cars, you know they can deliver incredible straight-line speed. In fact, it's even quicker than the Mustang, though it delivers a very different idea of driving pleasure. Prices start at $68,700 for the i4's M50 version, which pairs the most powerful electric motors with a sportier suspension tune. This model can travel an EPA-estimated 271 miles before needing to recharge, and less if you make frequent use of all its horsepower.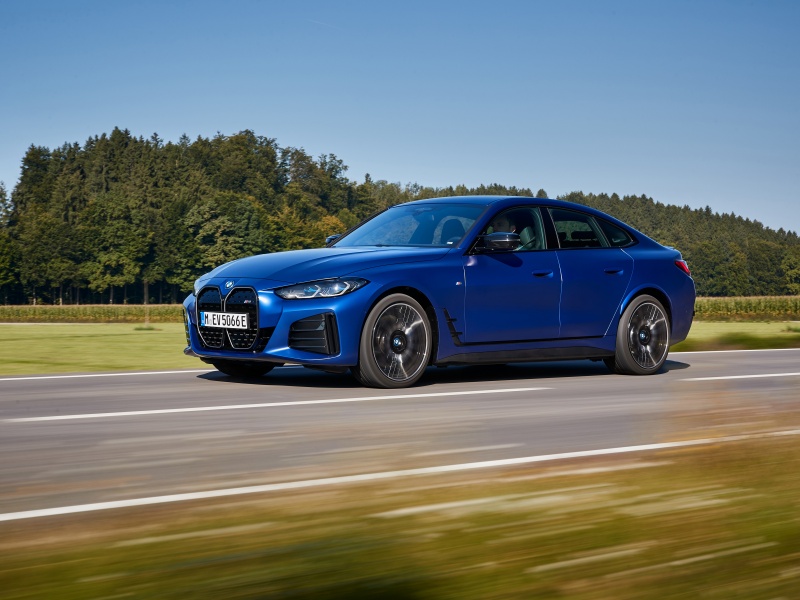 Photo by BMW
2023 Chevrolet Camaro ZL1
The Chevrolet Corvette would be a natural fit for our list, but with 490 hp, it comes up just shy of the magic 500. And its higher-performance Z06 model costs more than $100,000.
Fortunately, Chevy has an alternative: the 2023 Chevrolet Camaro ZL1. Its big 6.2-liter V8 is supercharged all the way to 650 hp for a starting price of $69,995. Plus, unlike the Corvette, the Camaro has a small backseat and an available manual transmission. The Camaro's interior is starting to show its age without any major updates since 2016, but it pairs wild power with a sophisticated platform shared with Cadillac's world-class luxury sports sedans. The Camaro is due to end production in January 2024, so if you're interested, get one while you can.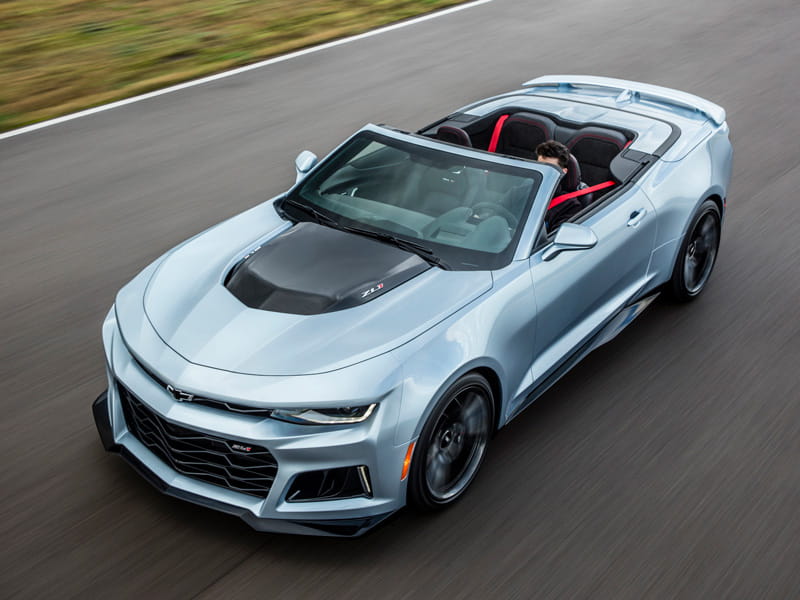 Photo by Chevrolet
2023 Dodge Challenger SRT Hellcat
Another aging, high-powered American performance coupe that's on its way out is the 2023 Dodge Challenger SRT Hellcat. The Challenger dates all the way back to 2008, and high horsepower has kept it alive.
This retro-styled bruiser has an incredible 717 hp from a supercharged 6.2-liter V8, available with a choice of manual and automatic transmissions. If that's not enough, you can upgrade from the $72,290 Hellcat to the $80,895 Redeye with 797 hp, or go all the way up to the 807-hp Super Stock for maximum bragging rights at $89,300. You can get the same engines, though for a higher price, in the four-door Dodge Charger. Unusually for a sporty coupe, though, even the Challenger has an adult-friendly backseat and a big trunk. These are fast cars that can bring the whole family along for the raucous ride. This is the last year for the Charger and Challenger, reportedly a victim of rising fuel efficiency and emissions standards.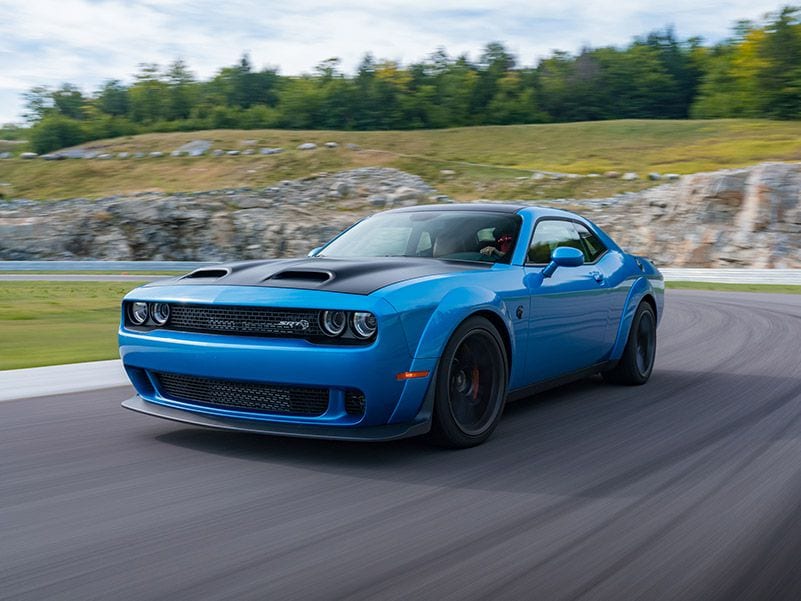 Photo by Dodge
2023 BMW M3 Competition
The 2023 BMW M3 Competition blends the mild-mannered appearance and poshly finished interior of the i4 electric car with the throaty gasoline-fueled performance of the American muscle coupes.
The M3 sedan starts at $74,300, but with "only" 473 hp. To qualify for this list, you need to pay $4,300 for the Competition version, which includes an extra 30 hp as well as the option to swap rear-wheel drive for all-wheel drive. The high-tech M3 is no longer known for supreme driver engagement, but it remains an increasingly successful piece of engineering mastery. And it can reach 60 mph in less than 4 seconds. For the same experience in a sportier wrapper, consider paying a few thousand dollars extra for the M4 coupe or convertible over the M3 sedan.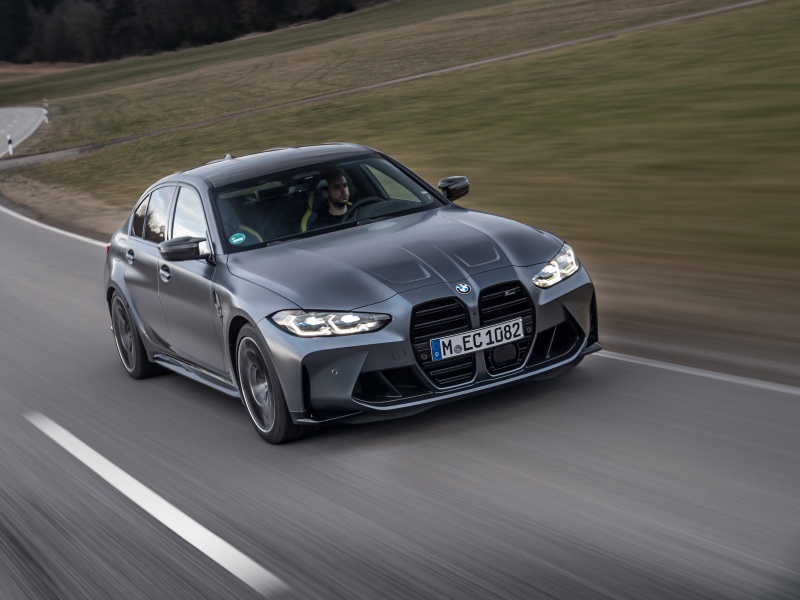 Photo by BMW
2023 Alfa Romeo Giulia Quadrifoglio
If you're looking for 500 horsepower in a car that feels like BMWs used to, check out the 2023 Alfa Romeo Giulia Quadrifoglio. For $79,760, this 505-hp sedan goes beyond extreme technical competence into true old-school driving pleasure – paired with a wholly modern Ferrari-derived 2.9-liter V6 engine. You won't find many old BMW sedans that reached 60 mph in less than 4 seconds.
The Alfa doesn't deliver the white-glove experience of a new BMW. Its interior isn't as posh as the M3's, and its in-dash electronics are a decade behind. But when you're focused on driving, our pick is the Giulia Quadrifoglio.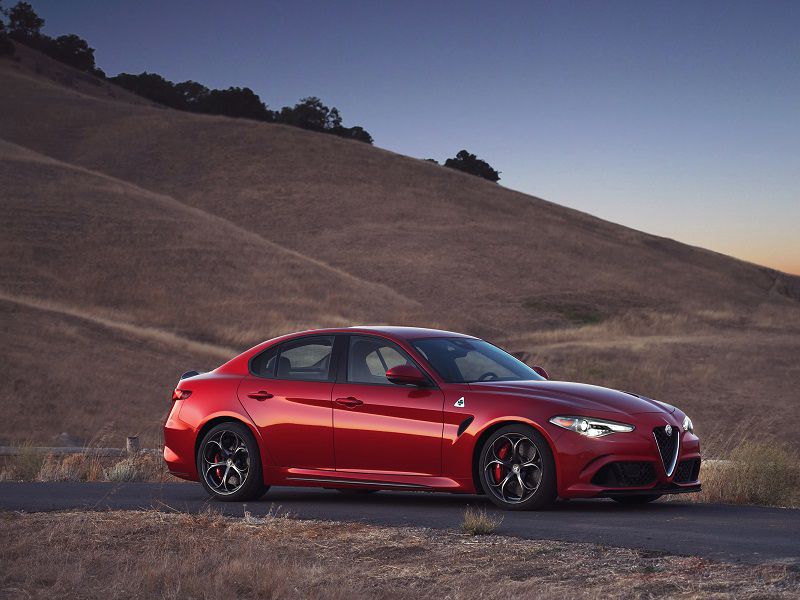 Photo by Alfa Romeo
2023 BMW M550i
For an even more cocooned experience of modern, ultra-fast luxury, it's time for the 2023 BMW M550i. This mid-size luxury sedan's 4.4-liter turbocharged V8 makes 523 hp and can hit 60 mph as fast as an M3.
The M550i is more of a high-speed limo than a sports car. It's cushy, coddling, and quiet, though still ferociously quick. And while it's no intimately responsive sports sedan on a winding road, its steady composure gives you the confidence to use its monumental horsepower. The 2023 BMW M550i starts at $81,500. Note that a 2024-model redesign of the BMW 5 Series will no longer include this V8 model. Instead, the quickest 5 Series under $100,000 will be the i5 M60 electric sedan.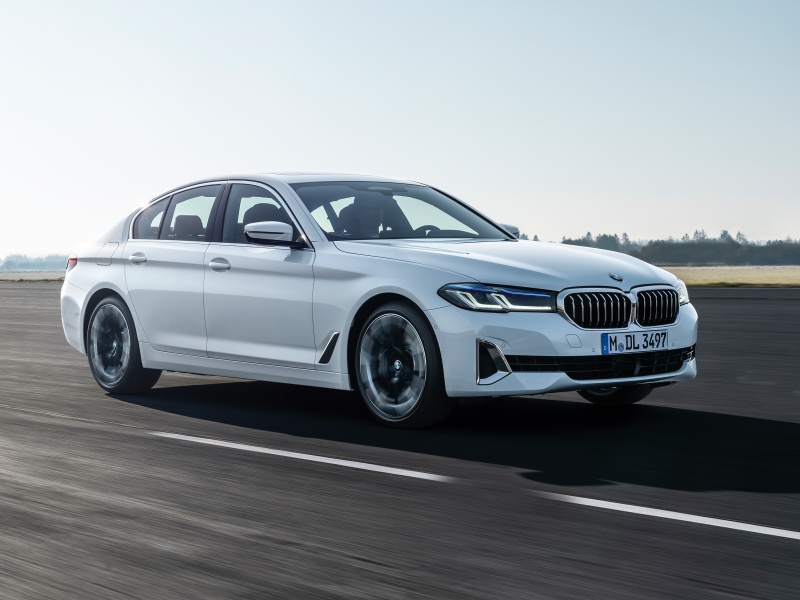 2023 Mercedes-Benz AMG C63 S
Right now, the 2024 Mercedes-Benz C63 AMG S E is making headlines. This fully redesigned compact sports sedan will make an absurd 671 hp – from a 2.0-liter four-cylinder engine.
But this model isn't out yet. Instead, what you can buy as we write is the 2023 Mercedes-Benz AMG C63 S, priced from $81,850. This is a two-door coupe or four-door convertible version of the previous-generation C-Class sedan. And it doesn't use a four-cylinder engine, but a 4.0-liter 503-hp V8. We expect that even if it's not quite as quick (with 60 mph arriving in about 4 seconds), it'll sound better. And these two-door models also feature graceful curves that set them apart from the upright four-door. If a V8 soundtrack and sleek body trump higher on-paper performance and a bigger infotainment touchscreen, take your chance to buy the 2023 C63.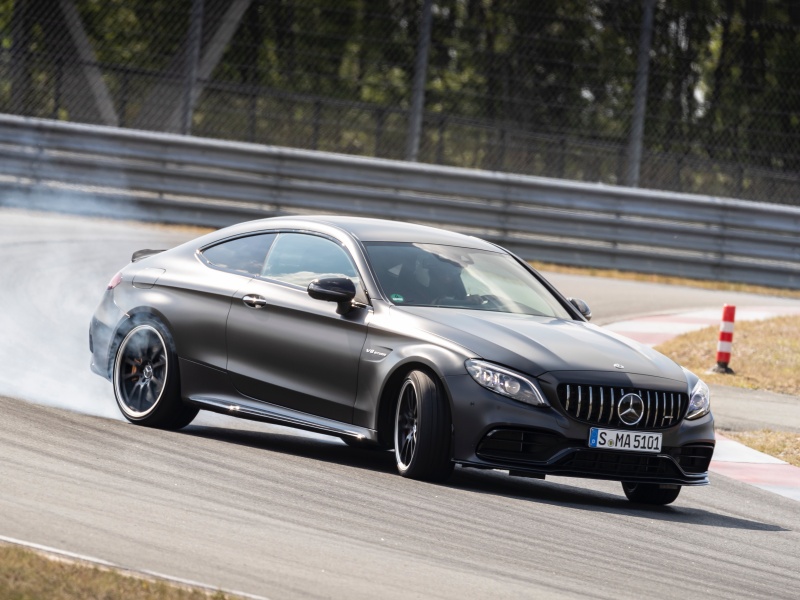 Photo by Mercedes-Benz
2023 Tesla Model S
Our other affordable electric car with 500 horsepower is the 2023 Tesla Model S. This sedan helped invent the idea of a premium, performance-focused electric vehicle. And it remains one of the best – especially if you're interested in speed.
The 670-hp base Model S, $88,490, whips itself to 60 mph in just 3.1 seconds while offering a 405-mile range per charge. The famous Plaid model is one of the fastest street-legal automobiles ever built, using its 1,020 hp to reach 60 in a promised 1.99 seconds. It costs $108,490. But even the base Model S is a wild performance car. And new for this year, it's once again available with a conventional steering wheel in addition to a polarizing "yoke." The Model S's bones are now a decade old, so you won't get the polished ride and handling of a newer luxury car. But nobody has matched its combination of speed, range, and relative value. Just keep an eye on the newer Lucid Air Touring, which now costs less than $10,000 more than the Model S.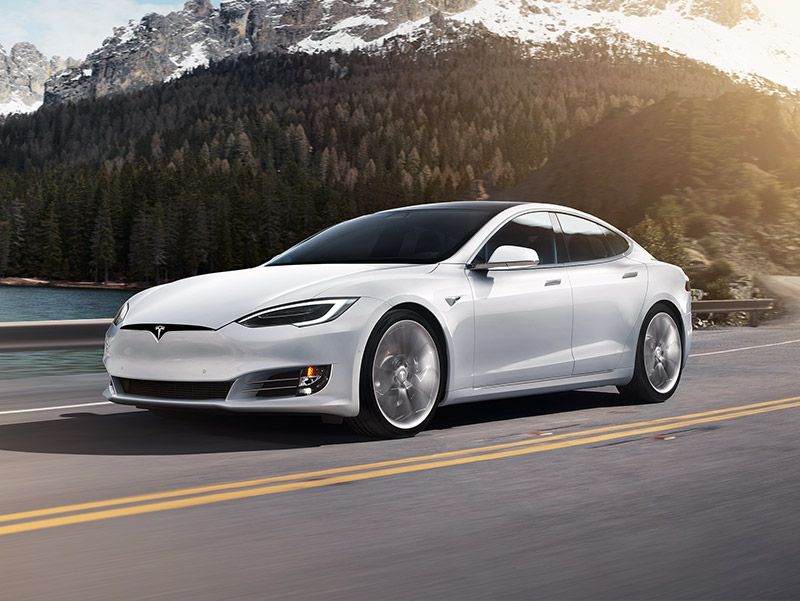 Photo by Tesla
2023 Cadillac CT5-V Blackwing
If you love the Chevrolet Camaro ZL1 but want to pair your performance with more gentility and spaciousness, enter the 2023 Cadillac CT5-V Blackwing. This $91,995 mid-size sports sedan has glorious performance from its 668-hp supercharged 6.2-liter V8. You can choose between the extra involvement of a six-speed manual or the slightly quicker acceleration of a 10-speed automatic (both need less than 4 seconds to reach 60 mph). And you get an incredible balance of a comfortable ride yet extra-sharp handling.
The CT5-V's performance chops are more superlative than its sumptuous luxury experience. The Cadillac's dashboard won't impress someone who's used to BMW or Mercedes-Benz sport sedans. But its driving experience will definitely leave an impression.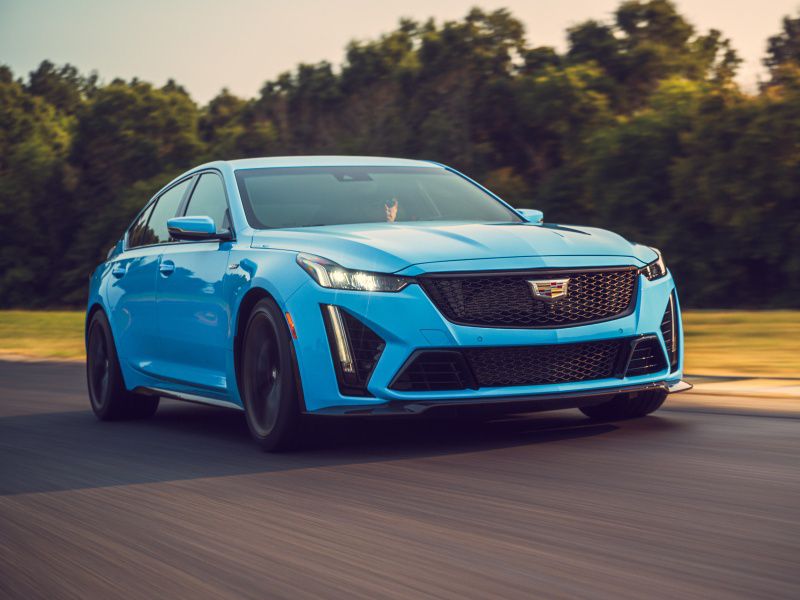 Photo by Cadillac